Impression Trays

KIT01 KIT02 KTT01 KBT KDT01 KDT02 KDT03 KDT04 KBT01 KBT02 KBT03 KBT04 KBT05





E-mail:

smiledt@163.com
Impression Trays KIT01 KIT02 KIT06 KIT07 KIT08 KTT01 KBT KDT01 KDT02 KDT03 KDT04 KDT05 KDT06 KTB01
KIT08
1.Confirm the tray is clean before using.
2.Soak the tray in hot water (within the range of 70-80°C)for 10 to 20 seconds .
3.Take out the tray, adjust the size and the angle with hands according to the oral and dental status of the patient. When the patient has asymmetric teeth or some deformed teeth, the sizes of individual portions shall be adjusted especially.
4.Put the adjust tray into the mouth of the patient and confirm whether he is comfortable or not. If the patient is not comfortable, please repeat the step 2 and 3,and readjustment is carried out accordingly till the patient feel the tray comfortable in his mouth.
5.Inject impression material or silicon rubbers into the final adjusted tray, put the tray into the mouth of patient, and then get model.
KIT01
Disposable impression trays, unique designed rigid, distortion-free construction. Perforation are designed to enhance consistent flow and retention. Smooth edges for comfort. Number-coded for easy identification of sizes.
KIT02
Autoclavable, it can be heated to 121°C, repeated use after sterilization. Uniquely design with sturdy and durable plastic. Ergonomic design, smooth surface, smooth surface make patients comfortable.
KIT07
Simple structure without the front and back connection, convenience to use, no foreign body sensation, uniform silicon when take the mold. Can get the occlusal record in one time. Also because of our inner tray design, make it more easy to get the mold which the occlusal is too tigh.
KIT06
Consist of base, frame, lagging strip, tray and hanging bar. It is used to place impression tray, eliminate adhesion or extrusion, retain model intact and precise. Simple impression tray stand with 1 tray and 1 lagging strip, hanging on the wall as well.
KTT01
Excellent pyroplasticity material trays. For soft and elastic, it makes patients comfortable.
KBT
It is used for counter impression and bite registration. Impression trays are rigid plastic frame, with ergonomic designed handle, makes patients comfortable. Five sizes are suitable for all people.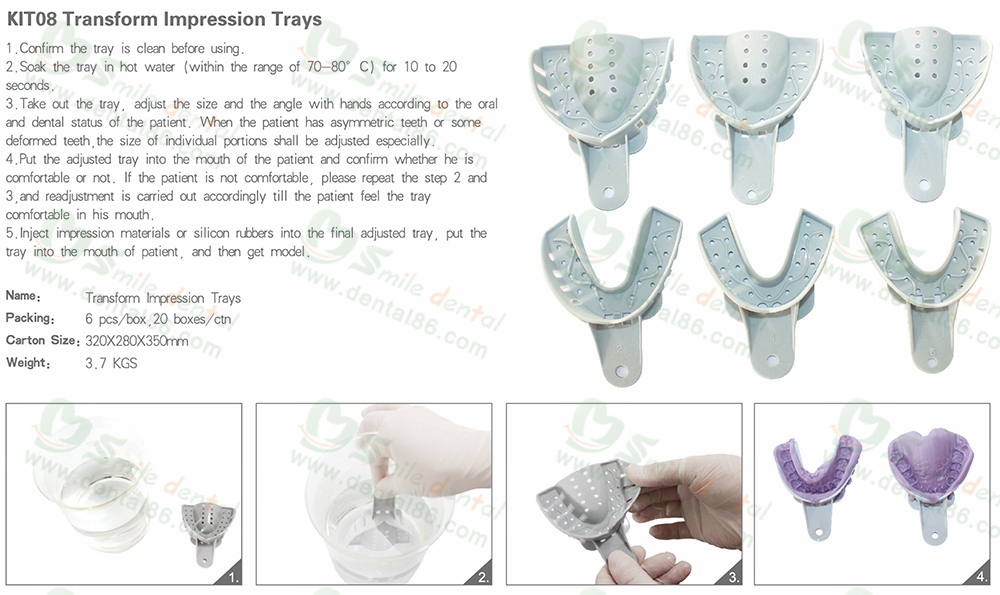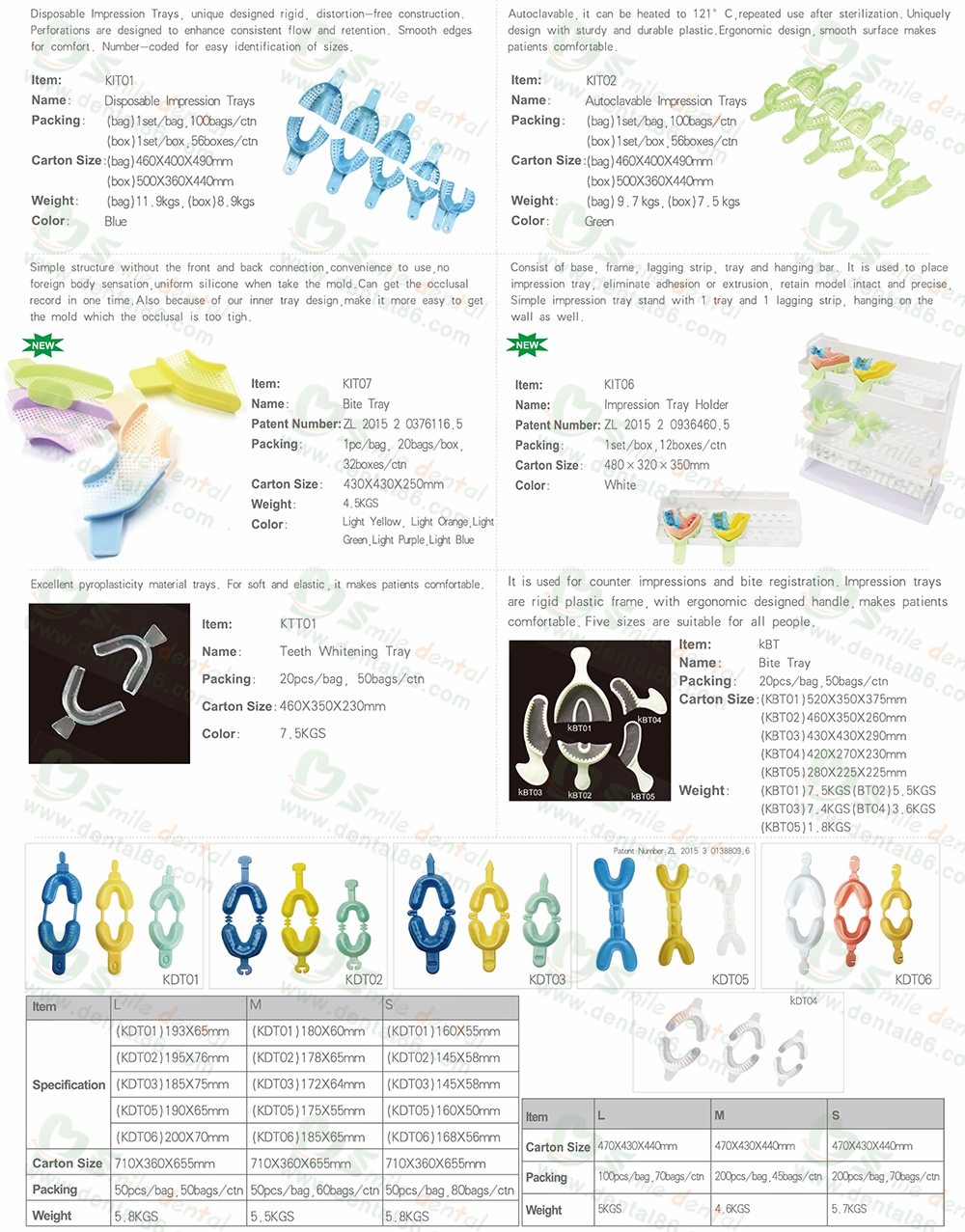 KIT01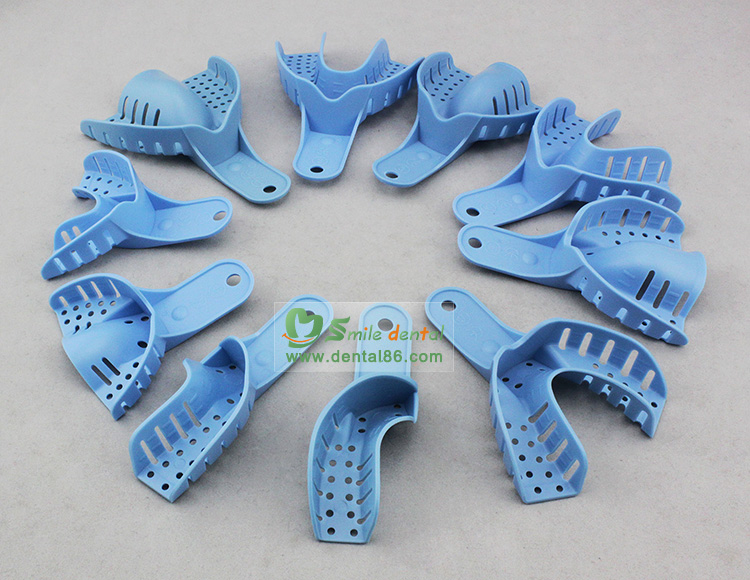 KIT02
KTT01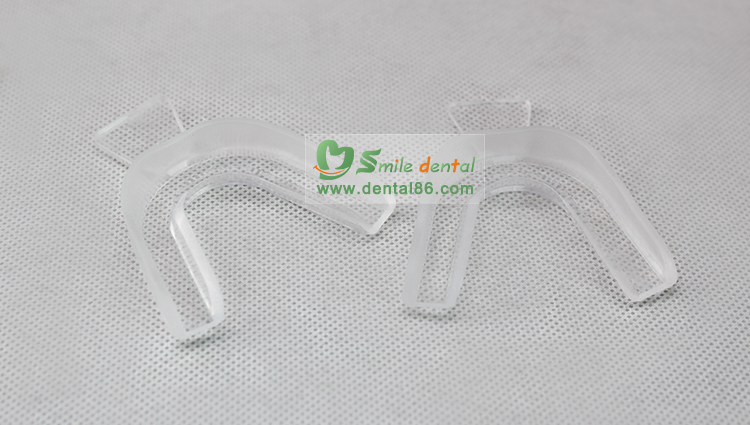 KIT07
KIT08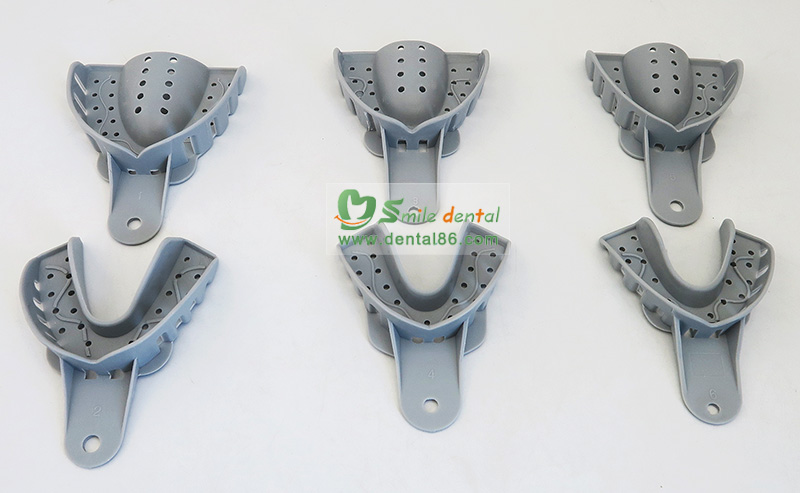 KBT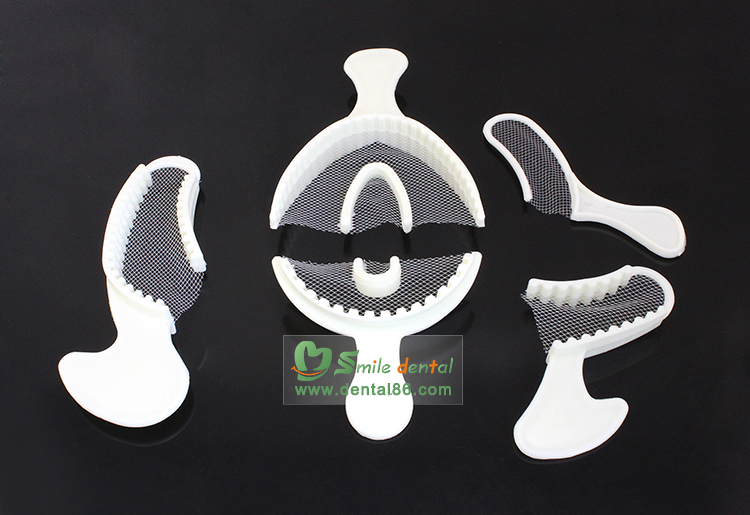 KDT01